Posted on
By Lisa Bennett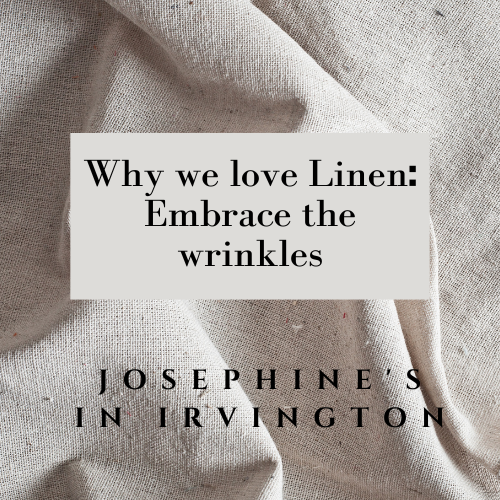 Linen... you either love it or hate it. We have found one issue with linen- the wrinkles. But don't let that stop you from experiencing this soft, durable, comfortable fabric. We say embrace the wrinkles!
There are many types and qualities of this fabric, so choose wisely. If you (like me) don't yearn to stream and iron, here's what to look for:
1. Prints. There's many reasons why prints are so popular, including they hide many imperfections, wrinkles included!
2. Wash it first. Even better, look for washed linen when you're buying. Many of our linen brands, such as Fenini, used washed linen which means the fabric has been washed prior to manufacturing. Linen can shrink, and buying washed linen not only prevents further shrinkage, but also has a softer feel and less stiffness. Unlike other fabrics, linen get stronger and softer the more it's laundered.
3. Wash and hang dry. Linen can be tumble dried on low heat, but we think it's best to wash, shake out, and line dry. Here's a little trick... if you want to get some of those stubborn wrinkles out, toss the dried garment into the dryer on low with an ice cube. As the ice melts, it creates steam to help eliminate those wrinkles. But don't leave it too long- it will shrink.
4. Embrace the wrinkles! High quality linen has wrinkles, and that's part of it's beauty. Wear that linen piece and let the wrinkles shine.
If you are hesitant to buy linen, give it a shot. Look for washed linen in a print to help minimize those wrinkles. Or join the cool kids and embrace the wrinkles!