Posted on
By Lisa Bennett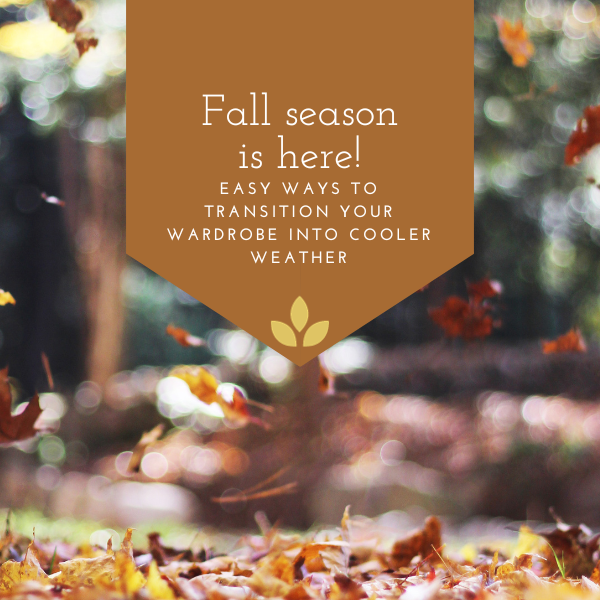 Here's a few items to make transitioning your wardrobe into autumn simple, and allows you to get some extra wear from you lighter weight pieces.
It's that time of year when the air gets crisp, the evenings cool down, and pumpkin spice is everywhere. Layering your wardrobe is easy with a few essential pieces. Not only can you get a bit more wear from your summer items, but you can go from cool morning to warm afternoon to crisp nights without needing to carry a suitcase with you.
Start with a good denim jacket- or two. A good fitting jean jacket in a medium wash will go with nearly everything, from a sleeveless dress to jeans to black pants. Once you have that basic style, try another jacket in a different length or color. That will help you keep your look fresh and up to date.
Stock your drawer with a few different light weight long sleeve shirts- include a black mesh top. Layer them under your sleeveless dress, and you now have a long sleeve dress. Don't just think of jackets and cardigans over sleeveless items, think of things to go under them as well.
Denim jeans never go out of style. And we love the girlfriend cut from NYDJ. These are slightly oversized, and can be worn rolled up with sandals in the summer or rolled down in the fall with loafers or boots. Pair them with an oversized cardigan for the quintessential autumn look.
Don't overlook a good vest. If it has removable sleeves, that's all the better. There are endless options from puffer style, quilted, zip up, open front, and the latest trend, sweater vests. There's so many layering possibilities with vests, so don't count them out.
Keep a couple hoodies close at hand. Stylish hoodies, like our Fenini bee style button up, will not only be used as your quick jacket, but worn as a sweater. And speaking of sweaters, no fall wardrobe is complete without a few cardigans. Make sure at least one is oversized and cozy.
Get creative with your wardrobe. Put those linen pants on with an oversized hoodie. Wear the sleeveless dress with a mesh long sleeve top under it. There are no rules to style- make your style unique to you.